I love the simplicity of the Scoreboard model. It will be very helpful for small firm leaders who need a better understanding of their financials.
Mark R. LePage, Founder, EntreArchitect
Rick Linley's book offers an accessible financial toolkit for architectural professionals, including benchmarks and guidance for firms of different sizes.
Elsa Lam, Editor, Canadian Architect magazine
---
The Scoreboard is absolutely brilliant. There is so much to unpack in your straight forward and visually compelling model. I expect it should work as a perfect key to unlock a lot of richness in anybody's firm. Yes, first of all the financial health, but then strategies of operation, of sales, of firm culture, of quality, of positioning, of hiring ... you name it.
Sole Practitioner Architect, Charlotte NC
Check out the Reviews posted on Amazon.
---
"The sole principal of a strong ten-person design firm pays herself a salary of $140,000. Her team does outstanding work and they're well paid. She started the practice nine years ago and has no debt. After retentions for the future, profit sharing for the team, and corporate taxes, she receives another $240,000 in pre-tax profits annually. To top it all off, the firm is worth about $2,000,000."
- From Scoreboard Your Practice
Once you've read Scoreboard Your Practice you'll understand the underlying financials of a firm like the one described above. You'll gain a clear understanding of your own firm's numbers, and you'll be ready to take the next steps toward a thriving future for your practice.
Sign up below to receive other useful resource material from time to time: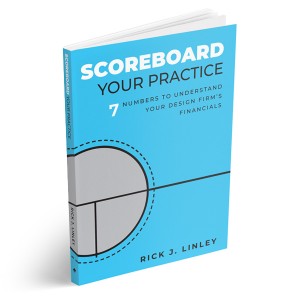 SCOREBOARD YOUR PRACTICE is now available for purchase at several on-line booksellers:


For a quick overview of the book click play on the video below.

Book Errata (Addendum)
In writing Scoreboard Your Practice a few minor issues were able to sneak past the author and editor. In the design industry we use an addendum to address these types of issues. In the world of books the device is called an errata. Please contact me via email to advise of any further corrections so they can be included here.
1. The abbreviation SMF should have been identified in the book. SMF stands for Small and Midsized Firm. That phrase appears first in the last paragraph on page 3. It should have included the abbreviation in brackets to read "…small and midsized firms (SMF)…"
2. Footnote number 6 regarding gorilla clients on page 29 spills over to page 30. It should have been kept together, and on the same page as the reference to gorilla clients.