An architect by profession, I've spent over 30 years in project and practice management. I held various responsibilities as a member of the leadership team that evolved Smith Carter Architects and Engineers Inc. into one of Canada's most highly respected and profitable multidisciplinary firms. Now known as Architecture49.
As Chief Operating Officer I was responsible for the integrated operations of architectural, structural, mechanical, electrical, interior design and landscape professional services. As a member of the executive team, I helped pilot the firm through both organic growth and acquisitions. As a Principal I led multiple high profile projects.
Retirement from practice in 2013 was outstanding. However after a year of travel and catching up with family, I got a bit restless and returned to my passion … practice building.
I'm excited to be coaching and guiding emerging and evolving design firms...helping them to grow stronger, better able to make meaningful contributions to the built environment. Ensuring the owners of those firms are compensated for their scope of responsibility, and the high value they provide to their clients.
Education:
Leadership in Energy and Environmental Design - Accredited Professional, 2003
Project Management Professional, 1997 - 2013
Master of Architecture, University of Manitoba, 1984
Bachelor of Environmental Studies, University of Manitoba, 1980
Professional Achievements
Principal, Strong Practice Strategies, 2014-present
Early Retirement, 2013
Various community/professional boards and committees.
Fellow – Royal Architectural Institute of Canada, 2002
Manitoba Association of Architects, President, 2000
'Professional Practice' sessional instructor, Masters level, University of Manitoba, Faculty of Architecture, 2001-2011
Project Director/Principal-in-Charge of multiple projects. Notable examples: Smith Carter Headquarters (now Architecture49), Winnipeg (2004); Manitoba Hydro's Corporate Headquarters, Winnipeg (2009); both are LEED Platinum and multiple design award winners.
Chief Operating Officer, Smith Carter, 1999-2013
Principal/Shareholder, Smith Carter, 1995-2013
Smith Carter Architects and Engineers Inc. 1985-2013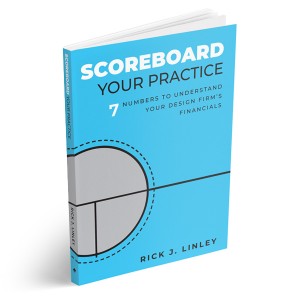 Author
Scoreboard Your Practice: 7 Numbers to Understand Your Design Firm's Financials
– Available NOW! Sign up here to receive other useful resource material.
Recent Speaking Engagements:
- Buildex Vancouver, March 2022
- Entrearchitect Mastermind session presentations, February, March 2022
- Interior Designers of Alberta Con-ed; January, February, March 2022
- AIBC Con-ed; October 2021
- MAA Webinars; February 2021, August 2020
- MAA Con-ed, Winnipeg; January 2016, February 2018, January 2017
- AIBC AGM speaker and panelist, Blueprint for Business seminar, May/September 2016
- IDC/PIDIM Con-ed, Winnipeg, April 2016
Attendees gave consistently high satisfaction ratings for each of these sessions. The following type of feedback is quite common: "It was clear that Rick really understands how designer's minds work. His relatability was refreshing and the delivery of information was clear and easy to digest." – Interior Design Firm Principal, Alberta.